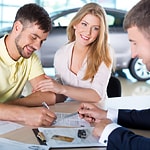 At Key Chevrolet Buick GMC Of Newport in Newport, NH, our team is always ready to help with financing questions. A refinance is typically what you do when you still want to keep your vehicle, while a trade-in is usually what you do when you want a new vehicle.
If you want to refinance your car, you don't get rid of your car rather you refinance it for lower payments. Refinancing is typically what someone does when they previously got a loan with a high interest rate. Refinancing can give you a lower interest rate, therefore, lower payments.
A trade-in is when you use the vehicle you have now and trade it in for an amount that will go towards your new car. Typically, this amount is put toward the down payment or the new vehicle so that you can have lower monthly payments.