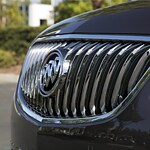 The Buick Envision brings comfort, class, and performance at once. The luxury SUV is the one to go for.
The incredible engine powers the impressive performance it comes with. The 2-liter four-cylinder turbocharged engine can produce 228 horsepower and handles up to 258-pound of torque. The fantastic machine can handle the vehicle properly and efficiently. This makes it easy for the driver to maneuver ways through the city and all kinds of terrain. The engine causes fast, easy, and unnoticeable gear shifting making the ride even smoother. Its steering responds faster, has a composed nature even when navigating turns, and brakes have mighty stopping power.
Its fuel consumption shouldn't bother you, judging from its fantastic performance. The Buick Envision is fuel economy with a consumption rate of 24mpg in the city and 31 mpg on the highway, pretty good for such an SUV.